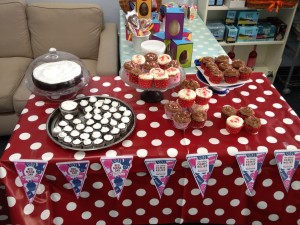 At 10:00 promptly today at Love Fish on Southbourne Grove,  Comic Relief would be proud!
An array of beautifully prepared and presented cakes and pledges taken for home grown produce….all for charity! After sampling the gluten free and Guinness sweet treats with a piping hot cup of coffee, the day has taken on a rosier glow…despite the clouds.
We all wish Julia, Sue and Nicola a fabulously successful day.
Go and treat yourself! You know it makes sense :0)))