PRESS RELEASE
14TH OCTOBER 2013
INSTRUCTOR INSPIRES HER LADIES TO WEAR IT PINK FOR CANCER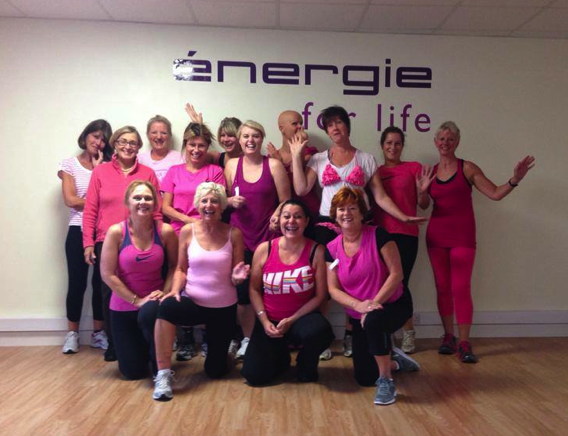 Raising awareness for Breast Cancer, Energie Fitness for women Southbourne held a 'Wear it Pink' day on Monday 14th October inspired by their courageous studio instructor Kit who has battled cancer herself.
The ladies at Energie dressed up in their Pink outfits for the gym and classes on Monday, all eager to support this cause.
Kit Alcock, who teaches Legs, Bums and Tums along with Abs Blast and Total Tone is an absolute inspiration, role model and a friend to all of the ladies of a similar age to her at Energie. Her battle with cancer has inspired her to work in the community to reach out to ladies of a similar age, helping them to gain confidence, gain a desire to improve their health and find their goddess within. She feels that since she has started teaching at Energie Fitness for Women she has realised that these are the women she has a heart for and she is doing all she can to make a difference, purely through the style of the classes and the rappor she creates with them individually. Kit Alcock, Fitness Instructor and….. says ' Even though I'm the one they think is motivating and pushing them to achieve, they dont realise how much they are touching, moving and inspiring me'.
Kit really has made a huge difference to the atmosphere at Energie Fitness for Women, through her bubbly, open and supportive personality, her down to earth nature and her passion and drive for health and fitness. It was her personal battle with cancer, her surgery, infections contracted from the hospital and 9 months off work completely dependent on others that gave her the revelation that she wanted to be remembered for something. Grateful for a second chance in life, she was determined to give back and reach out to touch lives, also raising awareness of the disease and how to fight back.
Emily Lamprey, Club Manager at Energie says 'We are so delighted Kit has chosen to teach at Energie Fitness for Women. Usually classes just tick a 'fitness box' for ladies, however at Energie we have realised that our ladies of Southbourne are looking for more than just a calorie burning session, they want to feel supported, part of a community and feel they can relate to their instructor.'
Energie are continuing to build their membership base, providing an environment completely unique to any other fitness club in the South. With their 2 unique fitness circuits, money back guarantee, their beautiful studio and instructors who go out of their way to support each and every member, Energie Southbourne headed in Milton Keynes and spreading rapidly around the UK, Ireland and overseas are proud to be the first Energie franchise to open in the South and provide this kind of environment for local ladies.